Alex Spencer
Over the last 6 months I've been training online with Inner Heights Climbing Coaching three times a week. I've always had a high level of fitness and climbed in an indoor gym regularly for many years. However, I felt like I had achieved all I could by myself and needed some improvement with help from a professional's perspective.
I Gained a Deeper Understanding of Basic Skills
With Coach Luke's guidance I gained a deeper understanding of my basic skills which actually needed some refinement. For example, I consider myself a strong person with a good understanding of my body given my gymnastics background, 8 years of climbing and being very heavily into sports and fitness my whole life. Yet, after noticing some flaring of the elbows and poor scapular engagement during some routine pull-ups, Luke was able to give information that allowed me to perform better; with an increased understanding of movement, correct biomechanics and less chance of injury.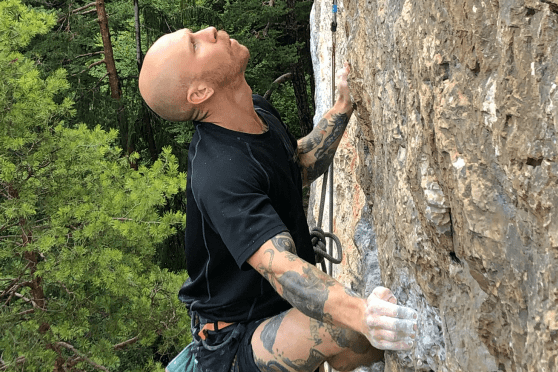 I saw myself improve almost instantly and really noticed it when I did some lead climbing outdoors down in Portland recently. I felt a 25-30% power/endurance increase and my mental focus was much improved, onsighting routes I'd normally need a couple of tries on. I feel confident and really enjoy having a training plan when I walk into the gym. It helps me to stay focused and to keeps me moving forward towards my goals.
How we did it:
Alex came to us as a very strong, very experienced climber that had hit a plateau that he was struggling to progress from. We started by going right back to his fundamentals, analysing his movement through video profiling, beginning to identify where some of his technique needed refinement and where some of his basic movement patterns could be improved. Over the course of weeks, we helped him re-establish the way he moves to make sure he's fully utilising his strength, built a deep endurance and power endurance pool so that he wasn't always distracted by fighting the pump, and made him even stronger with lots of different protocols; an engaging mix of climbing drills, hangboard programs and lots of general strength training. Alex dedicated himself and accomplished an excellent outcome as a result.
Want more details?
Reach out to us below if you're ready to start your training journey. We'll get back to you to let you know how we can help, and arrange a free consultation call if appropriate.